This is for Lets
Jihem
Originally uploaded by miss cayce.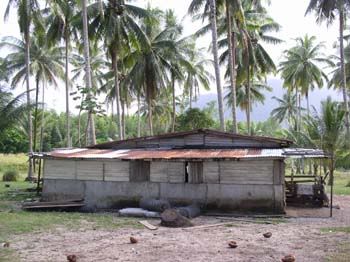 He owns a coconut farm, that leads to the beach in Sematan. He also rears goats (all thirty of them!). When my friend,
Lets
, was visiting the area, he took her around on his bike to show her the local sights.
Ah, Lets.. she had some interesting moments here (he he). My dad tried to match-make her with a pig farmer who was at least 50 years old!! (Actually, he's a retired police officer, who keeps pigs in one of his properties - Lets, he's got property!!)
"but he's younger than me!"
Dad, you're at least 60. Making comments like "he's younger than me" don't count anymore. Sorry. And what's the idea fixing up my friend with YOUR friend? EEeeeeee..
He was really disappointed that it didn't work out (DUH). Myself, I was so mortified when I found out and profusely apologized to Lets. Thankfully, she saw the funny side of it and laughed the whole thing off. I think my dad liked Lets a lot that he wanted her to stay - awww!!..
(but a 50 year old pig farmer, Dad???)