A little retail therapy = stress relief
Today's shopping mission ("if I so choose to accept it" – hee!) was to scout out new bamboo blinds for my bedroom window and buy doggie treats.
I didn't even come close to that.
First, I needed a bubble tea fix and since I was in the area, I popped into the bookstore on Carpenter Street. They're having a moving sale and some of the deals are fantastic. I've picked up books on Hose' memoirs (a British naturalist who came to Sarawak in the 19th century) and travel accounts by other 19th century foreign travellers in Borneo for 40% off!! As well, last month, I bought an Oxford Spanish-English dictionary for 20% off.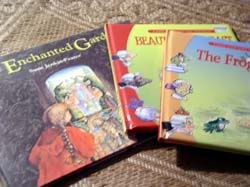 I've previously picked up a couple of books for some kids I know in the field and today, I couldn't resist buying a few more. I just feel for these kids because they lost their father a year ago and for a struggling single mother living in a rural area, books are not a priority. I do feel books are important, especially for developing young minds, so I'm doing my bit to help out. Initially, I bought Malay storybooks for the kids but I'm not too impressed with the quality of the books so I got a couple of English storybooks. The oldest daughter (about age six) can speak some English, and so does the mother (she used to be a dancer for the Cultural Village in town). The books were 20% off, much to my surprise.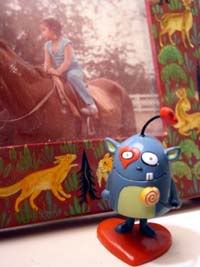 I couldn't resist picking this fellow up. This and other cute little monsters were initially for sale during Valentine's Day. I wanted to get one then but never got around buying it because it just seemed so frivolous of a buy. But then,
Shafina
put up a great photoset of her
little green monster
on flickr, and I feel inspired of doing the same with my own. So stay tuned for more adventures of.. little blue monster?? By the way, that's me as a kid on a horse. I especially love the papier-mâché photoframe from India. It was given to me by my previous boss who moved to NY.
At the same store, I saw this cute cheongsam (or samfoo?) cellphone charm. I've never bought a cellphone charm in my life, and I've resisted the temptation up to now. It's just so darn cute!! Yeah, I don't have a fancy phone. I just don't see the point to spend so much money on a phone and anyway, I usually turn off my phone. Ha ha.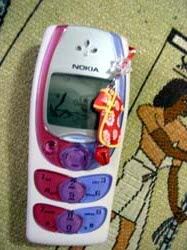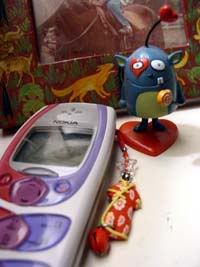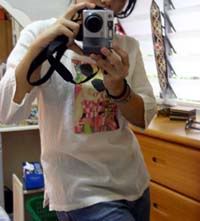 This top was definitely an impulse buy. I wasn't even looking for clothes! Was just browsing for fun and when I saw it, I had to try it on. It's soooo soft and comfy and I love the art on the front. I've seen this before but am drawing a blank... (so I'm a Science major!) It's very well-done – it looks like it's been painted on. It's hard to tell from the photo but it definitely looks much better when you see it in person. And the top feels soooo good on my skin. Hmm.. I wonder if I should pick up another one..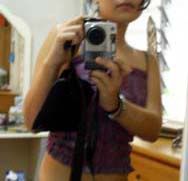 And here's what I was wearing today. Err.. I assure you, I am fully clad. Other stuff I got (but didn't photograph) was shower gel, lip balm and a mag. Yeah, like you needed to know that but I might as well finish totaling up the damage.
Hmm.. tomorrow, I'd actually complete my mission. The dogs are giving me a guilt trip and I'd like to stop waking up at the crack of dawn (I should have waited until I got my blinds before taking down my curtains!!).