This is life
I feel much better today; I've resolved an important issue and gained insight in the heart and mind. I also have to say, my friends helped a lot – I truly appreciate their love and support and humour. It feels so good to laugh at the angsty stuff, and especially at ME, for it makes me feel that I could overcome it. And oh, confidances over an informal chinese tea ceremony is therapeutic! Although we did some steps backwards but that's ok, the well-intentioned spirit was there.
I may have created a monster but I really like looking at pretty girls on my blog. I couldn't resist; here is one more:

(Somewhere in London)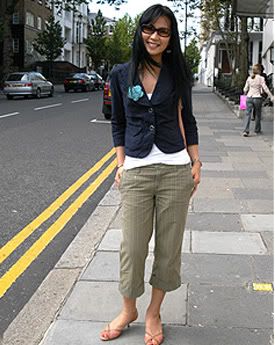 Loving the outfit, especially *HEART* the shoes.
Retail therapy's knockin' on the door. If we only had decent shopping here in Kuching! Itching to go to KL now now now. And Manila too!